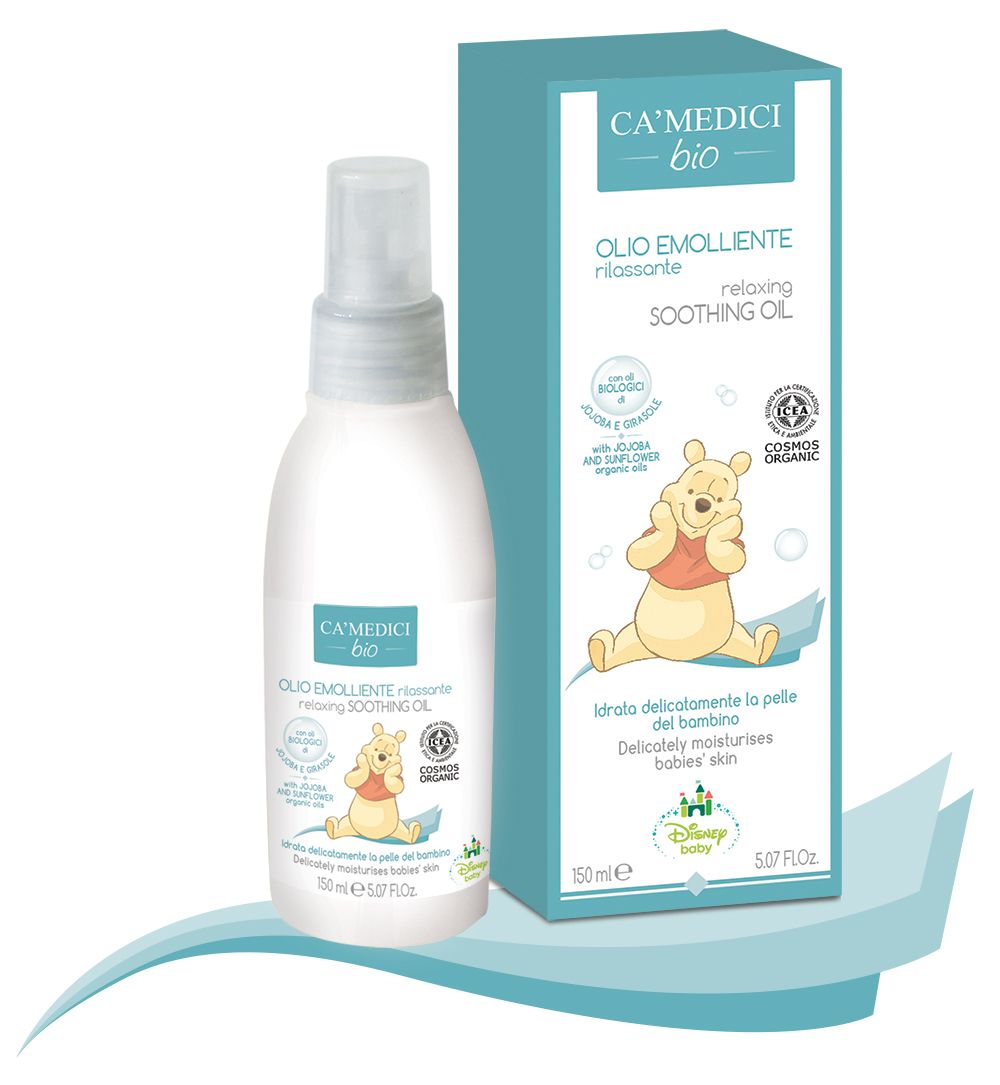 This product
It is controlled and certified by
The Relaxing Soothing Oil composed of a selected mix of natural oils, all organically grown and featuring important nourishing, soothing and anti-oxidant properties, has been specifically formulated to massage newborn skin, leaving it soft, protected and delicately perfumed. Also perfect for more delicate skins, it is easily absorbed without leaving a greasy or heavy sensation.
Salva
Salva
Salva
64.55% Organic of total – 100% Natural origin of total
Content: 150 ml – 5.07 Fl.Oz.
after bath time, pour a small amount of product into your palm and apply to the baby's clean skin, massaging delicately.
For an even more soothing bath, add a few drops into the water.
What is Cosmos Organic Certification?
Cosmos Organic Certification is the European standard for organic cosmetics. These strict guidelines are recognised on both a European and international scale and have been developed by the 5 principal European certification bodies for natural and organic cosmetics.
What are Cosmos Organic standards?
The COSMOS-standard establishes the requirements that must be met for a cosmetic to be labelled organic or natural. In order for a quality cosmetic product to obtain the COSMOS-standard, it must respect the requirements for the protection of animals and the environment. Products must also comply with the regulations in force and be classified using internationally recognised terminology and guidelines, starting from the definition of the various cosmetic ingredients, right the way through to the calculations for working out the percentage of organic and natural components and petrochemical residues. There are two certification levels: COSMOS NATURAL for natural cosmetics, and a higher standard for organic cosmetics, called COSMOS ORGANIC.
● ● 6
● 1 (Coumarin, allergene contenuto nel profumo)
Natural origin of total: 100 %
Organic of total: 64,55 %
INGREDIENTS:
Olio di girasole da agricoltura biologica (Helianthus annuus seed oil*), Caprylic/capric triglyceride, Olio di oliva da agricoltura biologica (Olea europaea fruit oil*), Olio di jojoba da agricoltura biologica (Simmondsia chinensis seed oil*), Olio di calendula da agricoltura biologica (Calendula officinalis extract*), Vitamina E (Tocopherol), Parfum, Coumarin
Why choose CA' MEDICI BIO BABY?